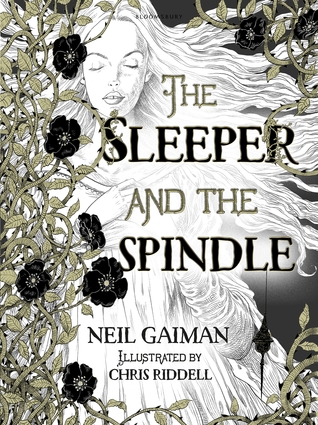 The Sleeper and the Spindle

by Neil Gaiman
Narrator: Julian Rhind-Tutt, Lara Pulver, Niamh Walsh, Adjoa Andoh, Peter Forbes, John Sessions, Michael Maloney, Sean Baker, Jane Collingwood, Clare Corbett, Allan Corduner, Katherine Kingsley, and Daniel Weyman
Published by Bloomsbury Publishing Plc on October 23rd, 2014
Genres: Fantasy
Format: Audiobook
Pages: 69
Length: 1 hr, 6 min
Barnes & Noble | Amazon
Goodreads

A thrillingly reimagined fairy tale from the truly magical combination of author Neil Gaiman and illustrator Chris Riddell – weaving together a sort-of Snow White and an almost Sleeping Beauty with a thread of dark magic, which will hold readers spellbound from start to finish.

On the eve of her wedding, a young queen sets out to rescue a princess from an enchantment. She casts aside her fine wedding clothes, takes her chain mail and her sword and follows her brave dwarf retainers into the tunnels under the mountain towards the sleeping kingdom. This queen will decide her own future – and the princess who needs rescuing is not quite what she seems. Twisting together the familiar and the new, this perfectly delicious, captivating and darkly funny tale shows its creators at the peak of their talents.

Lavishly produced, packed with glorious Chris Riddell illustrations enhanced with metallic ink, this is a spectacular and magical gift.
When everyone was reviewing The Sleeper and the Spindle in 2014, I had no interest in jumping on the bandwagon whatsoever. But I was looking for a short audiobook and it fit the bill.
As you can tell, this small story (a mere 69 pages) is narrated by a full cast – a very full cast. In case you merely glanced at the list of narrators (and I wouldn't blame you if you did), the publisher found no less than 13 narrators for the story. When I tried the sample, I was instantly taken-in with the narration and had to buy it. With the cast and the music, the audiobook was very atmospheric.
The Sleeper and the Spindle isn't earth-shattering. It's not the most fantastic story or writing I've ever come across, but it's nothing to shrug at either. Unlike what we often see, this is just a fairy tale. It seems to cross the road between a Grimm fairy tale and a full fledged novel. The story is a bit more involved than our traditional fairy tales (at least in my experience) but it doesn't deeply delve into the character's backgrounds and motives either.
With that said, these aren't complaints on my part. I didn't find any of this necessarily detracting. I rather found it refreshing to not only listen to a story that I could be no only be involved in,  but one that only requires a limited time commitment. With excellent narration, The Sleeper and the Spindle audiobook is just the thing to break up your normal reading routine.
Related Posts
Subscribe to Blog via Email