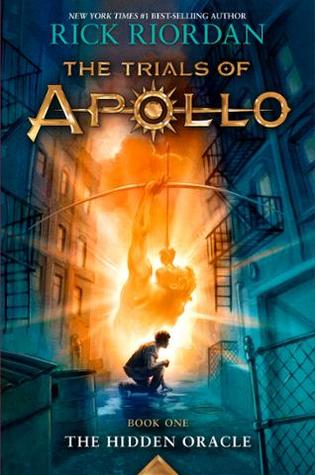 The Hidden Oracle
by
Rick Riordan
Series:
The Trials of Apollo #1
on May 3rd, 2016
Genres:
Adventure
Format:
Hardcover
Pages:
376
Barnes & Noble
|
Amazon
Goodreads
How do you punish an immortal?

By making him human.

After angering his father Zeus, the god Apollo is cast down from Olympus. Weak and disorientated, he lands in New York City as a regular teenage boy. Now, without his godly powers, the four-thousand-year-old deity must learn to survive in the modern world until he can somehow find a way to regain Zeus's favour.

But Apollo has many enemies - gods, monsters and mortals who would love to see the former Olympian permanently destroyed. Apollo needs help, and he can think of only one place to go . . . an enclave of modern demigods known as Camp Half-Blood.
Apollo was one of my favorite characters Riordan introduced in Percy Jackson & the Olympians. He was too fun for his own good and never failed to make me laugh, so when I heard about The Trials of Apollo I was beyond excited. I am happy to report that it met every single expectation. Although, I honestly only expected it to be fun and entertaining.
Reading The Hidden Oracle was so relaxing. I can't remember the last book I read that let me unwind so completely. I was invested in the story, eager to learn more, and loving every single moment of Apollo's arrogant and snarky narration. Riordan could keep writing companion series and I will read every single book.
Unlike Percy Jackson & the Olympians and The Heroes of Olympus, The Trials of Apollo centers around (yes, you got it) Apollo after Zeus decides to make him mortal and basically strip all of his godly powers from him as punishment for the events of The Heroes of Olympus. You know the great thing about this series? It ties in with the first two series but can still stand on its own for new readers. Yes, it'll spoil some events of The Heroes of Olympus but that's to be expected.
In traditional Riordan style, he introduces Meg the daughter of an Olympian that hasn't played much of a part in the previous series. I pretty much knew who her godly parent was from the very beginning, but I was definitely interested to see what he decided to do to make her stand out, especially since I've never considered this particular god all that exciting or interesting. Meg's character has more to offer than just the powers provided to her at birth. She has received some unique training during her life, which was actually refreshing in its own way. The most intriguing part about her is everything she was taught that has nothing to do with who her godly parent and powers. Hopefully, Riordan emphasizes this angle.
I do feel honor-bound to mention that yes, Percy Jackson does make a couple of brief cameos. I was actually prepared for him to have a much bigger role, but I'm glad that Riordan decided to let him take a break from the spotlight for the time being and share it with other characters.
Overall, I really enjoyed The Hidden Oracle and am looking forward to the next book in this series.
Related Posts
Subscribe to Blog via Email