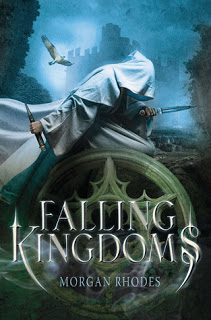 Falling Kingdoms
by
Morgan Rhodes
Narrator:
Fred Berman
Series:
Falling Kingdoms #1
Published by
Razorbill
on December 11th, 2012
Genres:
Fantasy
Format:
Audiobook
Length:
11 hrs, 35 min
Barnes & Noble
|
Amazon
Goodreads
In a land where magic has been forgotten but peace has reigned for centuries, a deadly unrest is simmering. Three kingdoms grapple for power—brutally transforming their subjects' lives in the process. Amidst betrayals, bargains, and battles, four young people find their fates forever intertwined:

Cleo: A princess raised in luxury must embark on a rough and treacherous journey into enemy territory in search of a magic long thought extinct.

Jonas: Enraged at injustice, a rebel lashes out against the forces of oppression that have kept his country impoverished—and finds himself the leader of a people's revolution centuries in the making.

Lucia: A girl adopted at birth into a royal family discovers the truth about her past—and the supernatural legacy she is destined to wield.

Magnus: Bred for aggression and trained to conquer, a firstborn son begins to realize that the heart can be more lethal than the sword. . . .
 35 Hours and I'm Hooked
When I first started Falling Kingdoms in 2013, I could hardly stand a single main character. Everyone but Jonas was completely awful in some way or another. I made it almost 200 pages in and decided that I was done with it. Over the past two years though, this series's covers have lured me in and my friends gave me the final push I needed. I read this and the second and third novels in one week; that's approximately 35 hours of audio.
I fell in love with the series this time around. I still didn't really like anybody though. Lucia was annoyingly innocent and naive. Magnus and King Gaius were horrible. Jonas was fine but hardly in the novel. And I just didn't like Cleo. However, their personal relationships are complicated. Magnus and Lucia are siblings but not. Jonas is in such deep pain that he is willing to risk his entire kingdom for vengeance. Cleo is in pain because of multiple people and decisions made by herself and others.
The Bear Trap
I don't understand how Rhodes did it, but I was thoroughly invested in these characters by the end of the novel. Rhodes lets the bad guy win. A lot. She puts the characters in impossible situations. She kills characters that you don't always know that you liked until they're dead. She let's the main characters love and care for people, then rips them apart in the most painful way possible sometimes. This series is very much character driven and Rhodes uses it to her complete advantage.
The consequences of certain decisions are pretty clear from the moment a decision is made. King Gaius can't be trusted but people trust or ally with him anyway. He has no respect for anyone and will use anyone in his path to his advantage. He doesn't love or care for anybody. He claims to but his actions say otherwise. Watching characters trust him was almost infuriating. The entire time, I was just hoping someone would see the danger I saw before it was too late. They didn't though. The never did and some people got what they deserved, but most of them didn't deserve Gaius or Magnus. Some of the characters that died, didn't deserve death; and some people who lived didn't deserve life.
Close Your Eyes, Children
The biggest lure with Falling Kingdoms was the world building. It's high fantasy, but it's barbaric. Absolutely barbaric. I wouldn't recommend this world for the faint of heart. It's fully developed and dangerous. I admire Rhodes for it. It's clear that it has a dark history, made darker by its current inhabitants. Sometimes it's like all humanity is lost. Everyone could die and this world would be better off for it. There is hardly anybody left worth saving.
Evil Narration + Tragedy = Perfection
As far as the narration goes, Fred Berman did a great job. I think he does a perfect King Gaius and has the perfect voice for such a barbaric setting. I've heard better narration but Berman's voice was pleasant to listen to and I don't have any complaints.
If you haven't read Falling Kingdoms yet and claim to love high fantasy, then it's time to give this series a shot. It was a long held suspicion of mine that this would be the case and it has been confirmed. I can see tragic things coming before they happen when I read this series, but that never lessens the impact. It doesn't not make you gasp or gape. This series will destroy your bookish heart in a very good way.
Related Posts
Subscribe to Blog via Email